Import-Export Clerk
Location: Davenport, IA
Please fill out the Katun Application form and/or attach your resume and submit it to: Sondra.meyers@katun.com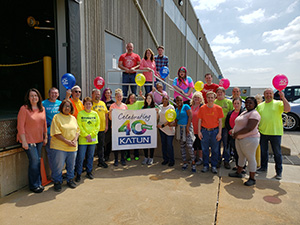 Work hours: 8:00 to 4:30 p.m. (Mon – Fri).
Full-time.
Non-exempt.
Purpose
Prepares import/export shipment documents in accordance with established procedures and guidelines. Responsible for scheduling, booking, and tracking of shipments to Katun facilities around the world to ensure that shipment arrive at destination safely, timely and cost effectively.
Key Responsibilities
1. Contacts service provider(s) to schedule/book full truckloads from suppliers to ensure product is delivered in the most cost-effective manner.
2. Calculates duties, tariffs, price conversions, weight, and volume of merchandise that is imported or exported to foreign countries. May calculate value of duties and tariffs due on transported goods.
3. Prepares import/export shipment documents in accordance with established procedures and guidelines. Enters information into computer to ensure information available to appropriate individuals worldwide.
4. Tracks shipments from suppliers to ensure product is delivered by specific date. Investigates and communicates delayed shipments and product inaccuracies to determine new delivery dates and ensures availability of products.
5. Verifies that invoices are accurate in accordance with physical shipment and customer's SLI, volume, value of materials/goods, country of origin and other regulatory requirements.
6. Provides clerical support to supervisor to ensure timely completion of reports, documents and information.
7. Participates in continuous improvement and quality initiatives including personal and professional development to maximize individual, departmental, and organizational capacity.
8. Maintains a safe and efficient work environment to continually meet customer needs and protect the health and welfare of employees.
9. Performs other projects, work and activities as assigned to ensure continuous service to our internal and external customers. This may include back-up functions and warehouse.
Direct Reports
None.
Education and Experience
HMay require an associate degree or its equivalent.
One-year previous clerical experience in keyboarding, computers and telephone skills.
Logistics and/or 1-3 years of related experience.
Knowledge, Skills and Abilities
Ability to read and comprehend instructions and correspondence.
Good communication required.
Organization skills required.
Critical thinking and problem-solving skills required.
Advanced math skills required.
Knowledge of clerical procedures and systems such as word processing, managing files and records and other procedures and terminology.
Equipment/Software Utilized
General office equipment; personal computer, telephone, printer, fax, copier.
Microsoft Office.
Microsoft Excel.
Logistics Software.
Required Certificates, Licenses and Registrations
Required: None.