Inventory Control Clerk III
Location: Davenport, IA
Please fill out the Katun Application form and/or attach your resume and submit it to: Sondra.meyers@katun.com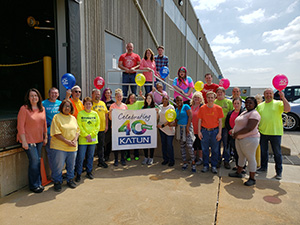 Full-time, Regular, Non-Exempt Hourly position.
Schedule: 6:00 a.m. to 2:30 p.m.
Monday thru Friday.
Must be able to maintain cherry picker certification.
Purpose
Maintains control of all inventory items purchased. Assigns locations for incoming product. Performs cycle counts daily to track stock levels. Investigates and resolves inventory part discrepancies.
Key Responsibilities
1. Completes cycle counts daily to track stock level in order to have appropriate level on hand for customer orders utilizing warehouse management system (WMS).
2. Assigns locations for incoming product.
3. Investigates discrepant part issues through physical and WMS methods in order to identify whereabouts of parts and/or re-supply parts.
4. Performs daily cycle counts by scanning products in location, investigates discrepant parts and space availability to ensure appropriate individuals are informed of inventory status.
5. Participates in continuous improvement and quality initiatives including personal and professional development to maximize individual, departmental, and organizational capacity.
6. Maintains a safe and efficient work environment to continually meet customer needs and protect the health and welfare of employees.
7. Maintains constructive relationship with employees throughout the warehouse by sharing information and knowledge in or der to enhance coworker's abilities to achieve results.
8. Performs other projects, work and activities as assigned to ensure continuous service to our internal and external customers. This may include back-up functions and warehouse.
Direct Reports
– None.
Education and Experience
– High school education +
– One-year warehouse experience required
– Inventory/accounting experience required
– Typically, 3-5 years of related experience
Knowledge, Skills and Abilities:
– Ability to read and comprehend instructions and correspondence
– Good communication required
– Organization skills required
– Critical thinking and problem-solving skills required
– Excellent math skills required
– Knowledge of Katun parts required
– Understanding of accounting principles in handling inventory discrepancies
– Has gained proficiency in multiple competencies relevant to the job
– Works independently within established procedures associated with specific job function.
Equipment/Software Utilized
– General office equipment; personal computer, telephone, printer, fax, copier
– IFS, WMS including scanners and tablets
– Stock Picker
Required Certificates, Licenses and Registrations
– Stock Picker certification
– Forklift certification (not required, but preferred)