Shipping/Receiving Lead
Location: Davenport, IA
Please fill out the Katun Application form and/or attach your resume and submit it to: Sondra.meyers@katun.com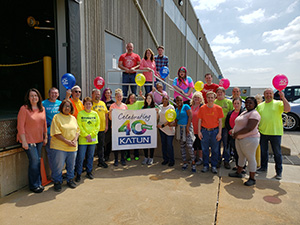 Work hours: 10:30 a.m. to 7:00 p.m. Monday thru Friday.
Hourly rate: Pending experience.
Preference: 2-3 years warehouse experience.
Hourly position.
Purpose
Gives work direction to workers who pick, receives, assembles orders and prepares goods for shipment/storage utilizing warehouse management system and established International and LTL policies and procedures. Maintains high level of customer fulfillment focus and service and directs others to stay on task to meet departmental performance goals.
Key Responsibilities
1. Responsible for managing the inter-departmental function processes. Lead is considered a working lead with little authority for personnel actions.
2. As a working team member, lead validates or coordinates the work of others on a support team.
3. Suggests improvements to process, is a knowledge resource for other team members and has no authority for staff actions.
4. Retrieve and scan ordered parts from the appropriate stocking area and apply appropriate labels to ensure accurate and timely fulfillment/put-away of the order.
5. Receives, unpacks, inspects and stores incoming material and supplies. Uses shipping records to verify the accuracy of incoming and outgoing shipments and orders in FIFO order. (Receiving)
6. Documents damages and discrepancies for future reimbursement and reconciliation. Examines product contents and compares with orders for incoming/outgoing shipment.
7. Ensures manifesting and packing customer orders for shipping utilizing established company policies and procedures to satisfy customer needs and avoid possible damage to the order during shipment. (Shipping)
8. Leads accurate application of personalized labels/license to product per customer specifications/inventory specifications. (Packaging and Receiving)
9. Ensures and prepares order by building, palletizing, and wrapping order within established international policy and procedure to result in safe shipment of product. Completes required paperwork for each order to ensure proper transportation of product. (International)
10. Ensures packages are marked for final shipment onto the appropriate trailer to ensure the timely distribution of the customer order. (Shipping)
11. Leads continuous improvement and quality initiatives including personal and professional development to maximize individual, departmental, and organizational capacity.
12. Maintains departmental safe and efficient work environment to continually meet customer needs and protect the health and welfare of employees.
13. Maintains constructive relationship with employees throughout the warehouse by sharing information and knowledge in order to enhance coworker's abilities to achieve results.
14. Performs other projects, work and activities as assigned to ensure continuous service to our internal and external customers.
Direct Reports
None
Lead is considered a working lead with little authority for personnel actions.
Education and Experience
High school education or GED required
Two-years warehouse experience preferred
Proven ability to achieve performance goals/expectations
Knowledge, Skills and Abilities
Thorough knowledge of the team processes
Ability to read and comprehend instructions and correspondence
Good communication required
General knowledge of computers and ability to enter information
Knowledge of Katun parts required
Equipment/Software Utilized
Scanners, IFS, Warehouse Management System
Tugger
Computer
Forklift
Walkie
Required Certificates, Licenses and Registrations
Tugger certification
Forklift certification (International and Receiving required)
Walkie certification (International required)
HAZMAT training for shipping product