KDFM PRINTANISTA ELEMENTS
The next-generation data collection agent (DCA) uses model definition files, custom scan intervals, differential transmission, and remote management features. Flexible deployment options allow you to install DCA on (Windows®, macOS®, Linux®, and Raspberry Pi® systems, to ensure you can monitor all customers devices.
Collect any critical meter, performance and supply level, to ease customers billing process. For instance, use specific tiered meter collection to bill based on toner coverage.
The Data Collection Agent (DCA) can be installed on a non-dedicated server, at a client location, or reside in the firmware of a device.
Log retrieval and MIB walks reduce interruption to customers and time spent troubleshooting DCAs.
Scan intervals can be customized for retrieving meters, supply levels or error codes when a device has a model definition file.
A Local Print Agent can be installed on each user's computer to capture USB and non-networked device print information, helping support customers' complete print environment.
This feature requires that Printanista Workflow (user management software) be installed in the customer environment, and that the Printanista Workflow Client be deployed to any workstations with locally-connected devices. An integration with Printanista Workflow is available to provide Printanista Hub with page counts from locally connected devices.
Devices that do not support SNMP or which are not connected directly to the network are referred to as "Local Devices". In most cases, local devices connect to a computer using USB or parallel port. Even if they are shared on the network, they are not directly connected to the network (ie: they have no IP address) and cannot be supported with SNMP.
Connecting remotely to the web interfaces of printing machines means you can troubleshoot or adjust configurations of a device without having to send a technician onsite, saving you time and money.
Available on all manufacturers devices with no additional onsite component.
How does it Work?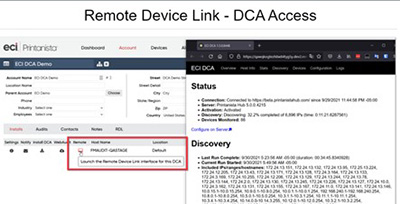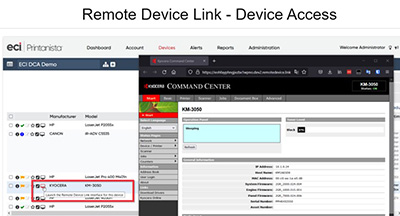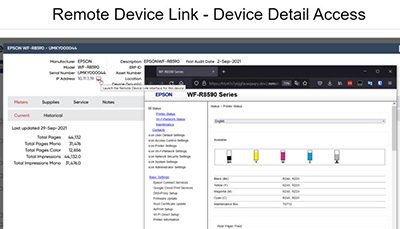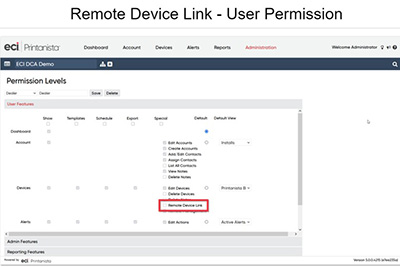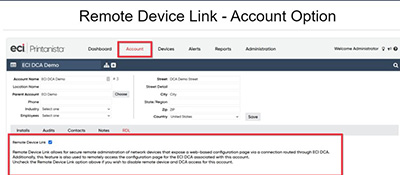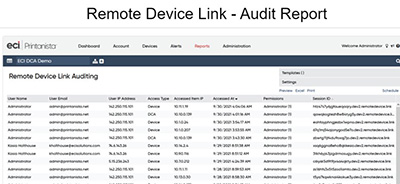 Printanista currently supports v1, v2c and v3 of the SNMP protocol. SNMP v3 provides increased packet protection to ensure information and communication is transmitted via reliable sources. Unlike SNMPv1 or v2, v3 is encrypted for increased security and requires both a username and a password. A benefit to using SNMP v3 is that network administrators can determine the encryption method as well as a strong username and password.
Printanista settings:
ECI DCA Instance: With the icon users will be able to open up to the DCA configuration options for scheduling and networking. This will open into a new pop up window displaying the DCA details.
Unique ID: Used to allow ECI DCA to sync into Printanista Hub.
IP: Displays the IPv4 and IPv6 address of the server or pc ECI DCA is installed on.
Hostname: Displays the Hostname of the PC or server ECI DCA was installed on.
MAC: Displays the MAC Address of the pc or server ECI DCA was installed on.
External IP: Displays the external IP of the ECI DCA instance.
Ignore on Lost Syncs: If not actively managing the account but do not want to delete the account, select this option to remove account from the lost sync's report & dashboard.
Firewall Considerations for ECI DCA:
Inbound Connections – There are no inbound connections from the internet to ECI DCA.
Outbound Connections – The below listed ports must be whitelisted to ensure connectivity of ECI DCA.

Data Upload/ Software Updates

Through Port 443/tcp (HTTPS) with a connection to Printanista Hub Server
Through Port 53/udp (DNS) with a connection to Local Network DNS server (primary) and
Printanista Hub (fallback)
Firewall considerations (Port 80 or 443) Outbound:
Data transmission:

https://(Printanista_FQDN)/WebServices/Onsite2Service.asmx
Application: fmaonsite.exe
SOAP over HTTP(s) must be allowed past firewall
On top of providing supplies and maintenance proactively, KDFM Printanista uses predictive analytics to give dealers and users greater insight into their print environment:
Save on unnecessary technical visits or calls
Customized dashboards for faster business decisions
Alerts on new devices added and overview of unmanaged devices for sales opportunities
More devices covered (USB-devices, thermal printers…)
Direct data Integration into ERP systems to optimize service level
Reduce environmental impact (toner waste reduction, compatibility with reforestation program to compensate paper usage)