KDFM PRINTANISTA ELEMENTS
DATA COLLECTION
The next-generation data collection agent (DCA) uses model definition files, custom scan intervals, differential transmission, and remote management features. Flexible deployment options allow you to install DCA on Windows®, macOS®, Linux®, and Raspberry Pi® systems, to ensure you can monitor all customers devices.
Collect any critical meter, performance and supply level, to ease customers billing process. For instance, use specific tiered meter collection to bill based on toner coverage.
The Data Collection Agent (DCA) can be installed on a non-dedicated server at a client workstation.
Log retrieval and MIB walks reduce interruption to customers and time spent troubleshooting DCAs.
LOCAL DEVICES SUPPORT
A Local Print Agent can be installed on each user's computer to capture USB and non-networked device print information, helping support customers' complete print environment.
This feature requires that Printanista Workflow (user management software) be installed in the customer environment, and that the Printanista Workflow Client be deployed to any workstations with locally-connected devices. An integration with Printanista Workflow is available to provide KDFM Printanista with page counts from locally connected devices.
REMOTE DEVICE LINK
Connecting remotely to the web interfaces of printing machines means you can troubleshoot or adjust configurations of a device without having to send a technician onsite, saving you time and money.
Remote Device Link (RDL) is a service allowing a remote end-user to access an HTTP endpoint on a private LAN. Available on all manufacturer devices with no additional onsite component.
There are 4 major elements to it:
The end-user accessing the device
The Remote Device Link server, on public internet
The RDL client (embedded in the DCA), running on the private LAN
The HTTP endpoint (printer) being accessed (running on the private LAN)
Security of Remote Device Link (RDL) was a key concern when developing this tool.
User must have permission from within KDFM Printanista portal to access the Remote Device Link (RDL) feature on the specific account
The Data Collection Agent (DCA) will only accept Remote Device Link (RDL) requests from the KDFM Printanista server which is mutually authenticated
The Data Collection Agent (DCA) only establishes Remote Device Link (RDL) connection to known and currently monitored print devices within the Data Collection Agents (DCA) discovery IP range(s)
Each individual web request must be to the same IP – The Data Collection Agent (DCA) will not follow redirects
The connection between KDFM DCA and KDFM Printanista is protected by authentication keys that are DCA installation specific, and the connection requires a valid trusted SSL certificate to use over a TLS connection.
All traffic transiting from the DCA to the internet is encrypted. However, the DCA can talk to the device in the local network over plain HTTP connections if the device does not support secure connections.
How does it Work?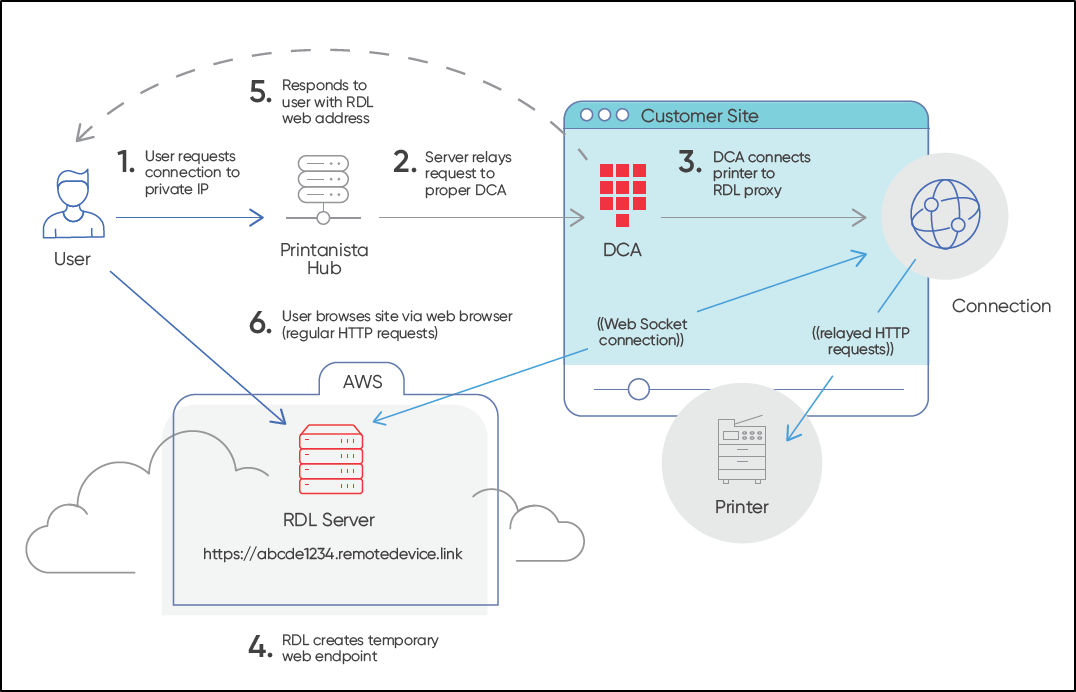 SECURITY
All sensitive settings and jobs between KDFM Printanista DCA and KDFM Printanista portal are encrypted using AES256 standard symmetric algorithm encryption , using a protected shared key. This ensures end-to-end encryption, so data is protected from being read if intercepted by a third party.
KDFM Printanista currently supports v1, v2 and v3 of the SNMP protocol. SNMP v3 provides increased packet protection to ensure information and communication is transmitted via reliable sources. Unlike SNMPv1 or v2, v3 is encrypted for increased security and requires both a username and a password. A benefit to using SNMP v3 is that network administrators can determine the encryption method as well as a strong username and password.
Confidential data is not collected, viewed or saved by any Printanista application.
Permissions based User Management
Users must log in to Printanista Hub using a designated username and password. Users are assigned one or more roles which specify permissions are granted access to one or more groups of devices. Administrators with full permissions can specify exactly which screens each user can view and/or interact with.
HTTPS access
The website can be accessed using HTTPS via port 443 provided that the web server is installed with a valid SSL security certificate. Optionally, Printanista Hub Administrators can require users that access the website using HTTPS by redirecting the HTTP version of the website.
Data Center security
KDFM Printanista portal is hosted in Europe within secure and protected datacenters with strong access control and physical security, environmental and power controls. Network is highly protected with firewalls, intrusion detection sensor.
PREDICTIVE ANALYTICS
Thanks to the predictive analysis and broad expertise in the MPS industry, KDFM Printanista is able to anticipate with a great accuracy on which day any toner cartridge will reach end-of-life and therefore when it is needed to replace it. It is also able to calculate an accurate and realistic value for the average toner coverage of each device and of each consumable cartridge.
Predictive analytics from KDFM Printanista give the dealers access to real-time and granular information for faster business decisions, a key factor for the MPS contracts profitability.
ALERTS AND REPORTS
Create efficient reporting
The device grouping of reports allows you to track device details such as age, status, uptime, alert history, utilization by volume or speed, the total cost of ownership, and how green devices may be.
Accurately and reliably invoice your customers
Within our meter reporting functionality, you can complete audit comparisons, report on all meters, and run a single-day report to capture everything from a specific account on a specific day.
Detailed charts
Our chart reports are simple visuals displaying the top and bottom of your fleet volumes, mono and color volumes, manufacturers, fleet average utilization, mono and color fleet average, and as well average for manufacturers.
Report on managed or unmanaged devices
As with meters, supplies management is extremely important to all your device contracts. Our supply reports let you report on managed or unmanaged devices, providing several options that to highlight supply levels at different percentages remaining, down to 5%.