Remanufactured Printers from Katun
Do you need a reliable, lower cost alternative to buying a new printer?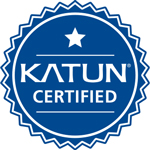 Either as a stand-alone device or as a replacement printer in your MPS accounts? Katun's remanufactured HP printers are the smart choice: hassle-free, dependable and cost-effective.
Visit the Katun Marketplace to compare all the remanufactured printers on offer and the various toner bundles available for each machine.
Why choose Katun's remanufactured printers with toner and MPS bundles?
Quality you can trust
Stringent remanufacturing processes completed in the European Union.
Looks and performs like a new printer.
Cost-effective
Significant cost savings vs. purchasing new printers.
Reduce your supplies costs with Katun aftermarket toner cartridges.
Further reduce your costs by bundling with Katun Dealer Fleet Management.
Hassle-free
Connects to your network and MPS software straight out of the box.
Shipped direct to you or your customer's location.
One year warranty on hardware.