Katun North America Introduces Color Toners and a Drum Unit Rebuild Kit
High-Quality Products for use in Canon, Ricoh and Konica Minolta Bizhub Applications.
MINNEAPOLIS – (December 2019) – Katun Corporation, one of the world's leading suppliers to the office equipment industry, is pleased to announce the introduction of color toners and a drum unit rebuild kit in North America.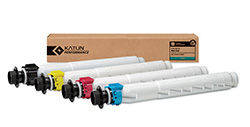 Katun Performance™ color toners for use in Ricoh IM C3000/C3500 and C4500/C6000-series applications provide OEM-equivalent image quality, color reproduction and yields at a significant cost savings versus OEM color toners.
The Katun Performance™ color toner set for use in Konica Minolta Bizhub C659/C759-series machines also provide excellent color reproduction and overall performance, as well as great value. These products are ideal for dealers looking to reduce supplies costs without risking customer satisfaction. These toners have been tested and approved in Katun's Research and Development laboratory in Minneapolis, Minnesota, to ensure they meet Katun's high quality and performance standards.
The Katun Access™ drum unit rebuild kit for use in Canon iR Advance C5535/C5540/C5550/C5560-series machines enables dealers to realize substantial cost savings versus purchasing a new OEM drum unit. Dealers can rebuild the drum unit at a fraction of the cost while still receiving consistent performance.
Katun products may be ordered by phone, fax or email, or via the Katun Online Catalog – the one-stop Internet resource that allows registered customers to locate and order thousands of Katun products while viewing real-time information about their orders and accounts. Customers can access the Katun Online Catalog, or find Katun customer service contact information, at www.katun.com.
About Katun Corporation
Headquartered in Minneapolis, Katun Corporation is one of the world's leading suppliers of OEM-compatible imaging supplies, photoreceptors, fuser rollers, parts and other products and services for printers, copiers and MFPs, and is celebrating 40 years in the imaging industry. Katun serves 10,000 dealer and distributor customers worldwide. For more information, visit Katun online at www.katun.com.