Katun North America Introduces Toner And Parts For Multiple OEM Applications
Copier Toner, Printer Cartridges and Waste Toner Containers Now Available.
MINNEAPOLIS – (September 2019) – Katun Corporation, one of the world's leading suppliers to the office equipment industry, is pleased to announce the introduction of copier toner, printer cartridges and waste toner containers, among many other products launched in September.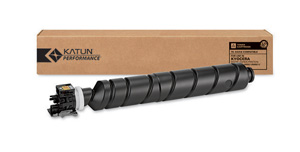 Katun Performance™ monochrome toner for use in Kyocera 4002i / 5002i / 6002i-series machines provides OEM-equivalent image quality and yields. This product has been tested and approved in Katun's Research and Development laboratory in Minneapolis, Minnesota, to ensure it meets Katun's high quality and performance standards.
Katun has also expanded its broad range of toner cartridges for use in HP applications, with the introduction of cyan, magenta, yellow and black toners for use in HP Color LJ Enterprise M553 printers. These remanufactured toner cartridges provide outstanding color reproduction and excellent image quality.
Katun's robust offering of cost-effective waste toner containers is now even broader, with the introduction of a waste toner container for Canon ImageRunner Advance 6565-series applications. Katun's line of waste toner containers provide OEM-equivalent performance, ensuring quality and cost savings.
Katun products may be ordered by phone, fax or email, or via the Katun Online Catalog – the one-stop Internet resource that allows registered customers to locate and order thousands of Katun products while viewing real-time information about their orders and accounts. Customers can access the Katun Online Catalog, or find Katun customer service contact information, at www.katun.com.
About Katun Corporation
Headquartered in Minneapolis, Katun Corporation is one of the world's leading suppliers of OEM-compatible imaging supplies, photoreceptors, fuser rollers, parts and other products and services for printers, copiers and MFPs, and is celebrating 40 years in the imaging industry. Katun serves more than 10,000 dealer and distributor customers worldwide. For more information, visit Katun online at www.katun.com.