Katun Corporation Introduces New Products For Canon, Konica Minolta And Sharp Dealers In North America
Color Toner, OPC Drums and Waste Toner Containers are included in Company's Recent Launches.
MINNEAPOLIS – (June 2017) – Katun® Corporation, one of the world's leading alternative suppliers to the office equipment industry, is pleased to introduce a color toner set for use in Canon machines, an OPC drum for use in Sharp applications and a waste toner container for use in Konica Minolta machines.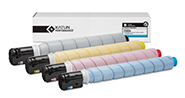 The highly anticipated Katun Performance™ color toner for use in Canon C3325/C3330/C3530 MFPs is now available, providing excellent color reproduction and image quality. The Katun Performance™ OPC drum for use in Sharp MX M654 and MX M754 applications has also been introduced this month, and delivers OEM-equivalent performance and drum life, plus significant cost savings. Katun's new waste toner container for use in Konica Minolta Bizhub C227 MFPs is the most recent of many new waste toner product launches for Katun, and represents a great opportunity for Konica Minolta dealers to increase their service profits on these machines.
Katun products may be ordered by phone, fax or email, or via the Katun Online Catalog – the one-stop Internet resource that allows registered customers to locate and order thousands of Katun products while viewing real-time information about their orders and accounts. Customers can access the Katun Online Catalog, or find Katun customer service contact information, at www.katun.com.
About Katun Corporation
Headquartered in Minneapolis, Katun Corporation is one of the world's leading suppliers of OEM-compatible imaging supplies, photoreceptors, fuser rollers, parts and other products and services for printers, copiers and MFPs. Katun serves more than 12,500 dealer and distributor customers worldwide. For more information, visit Katun online at www.katun.com.