Katun EMEA Introduces A Wide Range Of Products, Including Colour Toners, A Drum Unit, Inks And More
New Products Available for use in Ricoh, Konica Minolta, Toshiba, Brother and Epson Machines.
Tiel, The Netherlands – (October 2022) – Katun® Corporation, one of the world's leading alternative suppliers to the office equipment industry, is pleased to announce the introduction of several products for a wide range of OEM applications.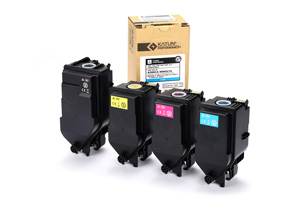 Katun Performance™ colour toners for use in Konica Minolta Bizhub C3300i / C4000i / C3320i / C3350i / C4050i -series applications, are now available for Konica dealers. These toner cartridges provide OEM-equivalent image quality, yields, and colour reproduction, as well as significant cost savings versus the OEM products.
The Katun Performance™ universal new-build drum unit for use in Ricoh MP C2003/C2004-series provides OEM-comparable performance and significant costs savings. Additionally, because it is a universal drum unit and works across multiple model series, it can help dealers simplify inventory and reduce related costs.
The recently introduced Katun waste toner container for use in Ricoh IM 2500-series applications fits and performs in these Ricoh models and equivalent PLDs and provides dealers with a cost-saving OEM alternative. A waste toner container has also been introduced for use in Toshiba e-Studio 330AC/400AC applications. These Katun Performance™ products provide dealers with their best overall value.
Katun has also introduced image transfer belts for use in Toshiba s-Studio 2000AC-series (equivalent to OEM PNs 6LK55460000 & 6LK50424000), Ricoh C3504-series applications (equivalent to OEM PNs D2416097 or transfer belt assembly D2416003) and Ricoh MP C2500/C3000 and MP C2800-series applications (equivalent to OEM PNs B2236130, D1446091, D1446092, D1446094). Dealers purchasing these Katun Performance™ image transfer belts will receive OEM-equivalent performance and great cost savings.
Additional products introduced include a Katun Performance™ staple cartridge for use in Ricoh SR-3160-series finishers and MP C4504-series copiers, Katun® Business Ink cartridges for use in Epson WorkForce Pro WF C869R printers, Katun® Business Ink cartridges for use in Brother MFC-J5945/6945/6927 printers, and Katun® Business Ink cartridges for use in Brother MFC-J1300 printers.
All these Katun products may be ordered by email, phone or via the Katun Online Catalogue – the one-stop resource that allows registered customers to locate and order thousands of Katun products while viewing real-time information about their orders and accounts. To find out which products are now available in your market, customers can access the Katun Online Catalogue at www.katun.com.
About Katun Corporation
Headquartered in Minneapolis, Katun Corporation is one of the world's leading suppliers of OEM-compatible imaging supplies, photoreceptors, fuser rollers, parts and other products and services for printers, copiers and MFPs. Katun has over 43 years' experience in the imaging industry and serves approximately 10,000 dealer and distributor customers worldwide. For more information, visit Katun online at www.katun.com.