Katun EMEA Expands Exclusive Eco-Friendly Line And Adds Ink Bottles To Portfolio
Recent Parts Introductions Also Include Waste Toner Containers for use in Sharp, Ricoh and Xerox Machines.
Gorinchem, The Netherlands – (October 2021) – Katun® Corporation, one of the world's leading alternative suppliers to the office equipment industry, is pleased to announce the introduction of several new products, including colour toners, to help office equipment dealers increase their profitability.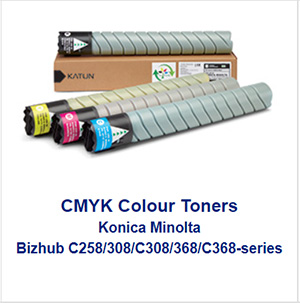 Katun Performance™ universal colour toners for use in Konica Minolta Bizhub C250i/C300i/C360i-series (TN328) and the Konica Minolta Bizhub C450i/C550i/C650i-series (TN626) machines have been introduced to provide dealers with new, competitively priced alternatives to the expensive OEM toners for these devices. These Katun Performance™ toners will also function across the equivalent Develop and Olivetti devices. Improved stock and inventory management, combined with increased profit opportunity make these toners a perfect choice for Konica Minolta dealers.
Katun's exclusive Eco-Friendly product line for use in Konica Minolta devices using recycled plastic, has expanded to include Katun® Business Color toners for use in Konica Minolta C258/308/C308/368/C368- (TN325,TN324C/M/Y) applications. This expansion of the Eco-Friendly range provides our dealer & distributor partners an industry exclusive opportunity to use environmentally friendly toners and waste toner cartridges.
Katun has introduced a waste toner container for use in Sharp BP10C20-series applications (BPHB200), a universal waste toner container for use in Xerox VersaLink C8000-series and AltaLink C8130-series and as well as a waste toner container for use in Ricoh SP C430DN-series (406665). These containers provide reliable, consistent performance and are an easy choice for the profit-minded imaging industry professional.
The Katun Business Ink™ brand has been expanded by introducing several new ink bottles for use in various popular Canon Pixma-series, Epson Ecotank-series and HP Smart tank inkjet applications. These products have been developed and rigorously tested to provide OEM-equivalent image quality and yields, along with outstanding colour reproduction and overall performance, at significant cost savings vs. purchasing OEM inkjet refill bottles. For full model listings and compatibility please visit the Katun Online Catalogue, www.katun.com/kolc.
All these Katun products may be ordered by email, phone or via the Katun Online Catalogue – the one-stop resource that allows registered customers to locate and order thousands of Katun products while viewing real-time information about their orders and accounts. To find out which products are now available in your market, customers can access the Katun Online Catalogue at
www.katun.com/eu/.
About Katun Corporation
Headquartered in Minneapolis, Katun Corporation is one of the world's leading suppliers of OEM-compatible imaging supplies, photoreceptors, parts and other products and services for printers, copiers and MFPs. With over 42 years of imaging industry expertise, Katun serves approximately 10,000 customers worldwide. For more information, visit Katun online at www.katun.com/eu/.