Katun EMEA Introduces Key Products For Use In Ricoh And HP Applications
Remanufactured Toner Cartridges and an OPC Drum are Part of Katun's Expanding Product Range.
Gorinchem, The Netherlands – (November 2021) – Katun® Corporation, one of the world's leading alternative suppliers to the office equipment industry, is pleased to announce the introduction of new products for use in Ricoh and HP applications.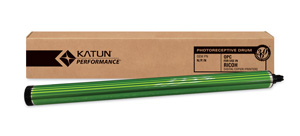 Katun Performance™ colour toners for use in HP E57540 machines are now available, enabling dealers to reduce their supplies costs while helping contribute to the circular economy. These remanufactured toners provide excellent print quality and vibrant colour reproduction, while also providing OEM-equivalent yields. The combination of quality, reliability and cost savings make these cartridges a smart choice for anyone servicing these HP machines. Like other products in Katun's growing range of eco-friendly products, these remanufactured toners are in line with Katun's commitment to adhere to sustainable business practices. Katun makes every effort to offer products and programs that enable customers to make "green" choices.
Ricoh dealers will be pleased to learn that Katun has introduced an OPC drum for use in Ricoh IM C3000/C6000-series applications. This Katun Performance™ drum has been designed to provide OEM-equivalent drum life and image quality, as well as OEM-equivalent performance. This product introduction strengthens the already broad range of high-quality OPC drum products that Katun has available for Ricoh dealers, while the cost savings and increased profitability this drum provides are critically important during these challenging times.
These Katun products may be ordered by email, phone or via the Katun Online Catalogue – the one-stop resource that allows registered customers to locate and order thousands of Katun products while viewing real-time information about their orders and accounts. To find out which products are now available in your market, customers can access the Katun Online Catalogue at
www.katun.com/eu/.
About Katun Corporation
Headquartered in Minneapolis, Katun Corporation is one of the world's leading suppliers of OEM-compatible imaging supplies, photoreceptors, parts and other products and services for printers, copiers and MFPs. With over 42 years of imaging industry expertise, Katun serves approximately 10,000 customers worldwide. For more information, visit Katun online at www.katun.com/eu/.