Katun Corporation Introduces Datavac Electric Duster
Clean your electronics and computer equipment the smart, cost-effective and environmentally friendly way.
MINNEAPOLIS – (June 2015) – Katun® Corporation, one of the world's leading alternative suppliers to the office equipment industry, is pleased to add the Datavac® Electric Duster® to their Service Accessories offering. This tool is an effective and cost-efficient alternative to "canned air" products. It literally blasts dust, dirt and debris off expensive computer and electronic equipment to keep it running at peak efficiency. This environmentally friendly duster comes equipped with a 500-watt motor and is constructed out of sturdy steel.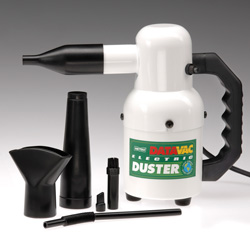 Katun products may be ordered by phone, fax or email, or via the Katun Online Catalogue – the one-stop Internet resource that allows registered customers to locate and order thousands of Katun products while viewing real-time information about their orders and accounts. Customers can access the Katun Online Catalogue, or find Katun customer service contact information, at www.katun.com.
About Katun Corporation
Headquartered in Minneapolis, Katun Corporation is one of the world's leading suppliers of OEM-compatible imaging supplies, photoreceptors, fuser rollers, parts and other products and services for printers, copiers and MFPs. With 36 years of imaging industry expertise, the privately held Katun serves more than 13,500 customers worldwide. For more information, visit Katun online at www.katun.com.