KATUN® CORPORATION INTRODUCES NEW KATUN BUSINESS COLOR TONER FOR USE IN SHARP MX-4110/4111 APPLICATIONS
Company Also Introducing New Products for use in Toshiba and Canon Machines.
MINNEAPOLIS – (October 2013) – Katun® Corporation, one of the world's leading alternative suppliers to the office equipment industry, is pleased to introduce Katun Business Color toners for use in Sharp MX-4110/4111 applications, which provides performance, life/yields and image quality that are equivalent to that of the comparable OEM products. The introduction of these Katun color toners expands a large and growing selection of Katun imaging supplies for use in Sharp applications and represents Katun's fourth toner launch for Sharp machines in the past nine months.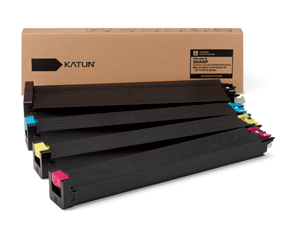 Among other products being introduced in October is the Katun Performance™ Waste Toner Container for use in Canon imageRunner/iR 1730-series Digital Copiers/Printers. This cost-competitive waste toner container enables office equipment dealers to increase profitability without risking performance or customer satisfaction.
Katun products may be ordered by phone, fax or email, or via the Katun Online Catalogue – the one-stop Internet resource that allows registered customers to locate and order thousands of Katun products while viewing real-time information about their orders and accounts. Customers can access the Katun Online Catalogue, or find Katun customer service contact information, at www.katun.com.
About Katun Corporation
Headquartered in Minneapolis, Katun Corporation is one of the world's leading suppliers of OEM-compatible imaging supplies, photoreceptors, fuser rollers, parts and other products and services for the office equipment industry. With 35 years of industry expertise, the privately held Katun serves more than 14,000 customers in 138 countries. For more information, visit Katun online at www.katun.com.