Katun® Corporation Names Bob Moore As President And CEO
28 Year Industry Veteran Replaces Interim CEO Sebastian Bretschneider.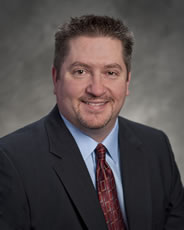 Minneapolis, MN – (February 1, 2016) Katun Corporation, one of the world's leading suppliers of OEM-compatible supplies and parts to the office equipment industry, today announced that Bob Moore has been appointed President and CEO, effective February 1, 2016. He replaces Sebastian Bretschneider, who has held the position since March 2015.
"Bob is uniquely qualified to continue to lead Katun," said Bretschneider. "He has held numerous roles with Katun during his 28 year tenure with our firm. The executive team, our shareholders and our employees have the highest confidence that Bob will work effectively to grow Katun's profitability while providing the highest level of value to our customers."
Mr. Moore brings a wealth of knowledge and experience to the position, having started his career in Katun's product development organization as the Manager of Imaging Supplies. During his tenure, he has also served roles as the Senior Manager of Technical Operations, Assistant Vice President of Technical Operations, Assistant Vice President of Product Development, General Manager of International Markets, and, most recently, as Senior Vice President of Operations. Prior to Katun, Bob spent time working in dealerships as a field service representative.
Mr. Moore holds a Bachelor of Science degree in International Business from Metropolitan State University and a Master of Business Administration degree in Marketing and Finance from the University of Minnesota.
"As a long time Katun employee, I am excited to lead this outstanding organization and our dedicated, talented team of employees," said Moore. "I am very passionate about the value proposition that Katun provides, and feel that we are in a great position to grow our business and become an even more valuable partner to our customers and suppliers around the world."
About Katun Corporation
Headquartered in Minneapolis, Katun Corporation is one of the world's leading suppliers of OEM-compatible imaging supplies, photoreceptors, fuser rollers, parts and other products and services for the office equipment industry. With 37 years of industry experience, Katun serves more than 12,500 customers in 135 countries. For more information, visit Katun online at www.katun.com.