Katun Europe Expands Offering Of High-Quality Color Products
Katun Introduces More Color Toner and Parts While Emphasizing Quality.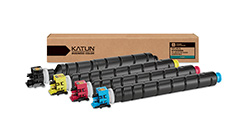 GORINCHEM, The Netherlands – (December 2018) – Katun® Corporation, one of the world's leading alternative suppliers to the office equipment industry, is pleased to expand its already broad selection of high-quality color products for copiers, printers and multi-functional devices.
While introducing dozens of new color products in the past several months (including products for use in Ricoh, Sharp, HP, Kyocera, Olivetti, Ricoh and more), Katun has remained true to its mission that sets it apart from competitors in the aftermarket: providing unsurpassed color quality and value, including OEM-equivalent yields, excellent image quality and outstanding color reproduction.
"Color quality and value have always been our key differentiators and give us a distinct advantage over other suppliers," said Heidi Boller, Katun EAME General Manager. "It's been that way since 2008 when we launched our first successful color product and it is just as true today. Katun excels in providing OEM-equivalent toners and components for a broad range of color MFDs – it is our value add. We do this by adhering to stringent product testing and quality assurance procedures, performed in our research and development laboratory in Minneapolis, Minnesota by our expertly trained technicians and engineers."
Boller continues, "Not only in the lab – Katun® Corporation conducts testing in the field with our EAME technical team – a group of more than 12 people responsible for customer field tests, full Q&A validation and ongoing testing of production runs – key reasons that make Katun the best aftermarket partner that an office equipment dealer or distributor can have."
"We estimate that over 40 billion pages have been printed worldwide using Katun color imaging supplies – a sure sign of the quality, consistency and reliability of Katun and its products," Boller concludes.
Katun color products can be ordered through Katun's sales and customer service representatives, or through the Katun Online Catalogue (www.katun.com/kolc).
About Katun Corporation
Headquartered in Minneapolis, Katun Corporation is one of the world's leading suppliers of OEM-compatible imaging supplies, photoreceptors, fuser rollers, parts and other products and services for printers, copiers and MFPs. With nearly 40 years of imaging industry expertise, the privately held Katun serves more than 10,000 customers worldwide. For more information, visit Katun online at www.katun.com/eu.