Katun Europe Introduces Colour Toners, Drum Unit Cartridge and Waste Toner Container
Includes a Suite of Products for Konica Bizhub C250i-series Applications.
MINNEAPOLIS – (June 2020) – Katun® Corporation, one of the world's leading alternative suppliers to the office equipment industry, is pleased to announce the introduction of several very significant products to help dealers increase their profitability.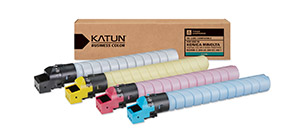 Katun has introduced an entire suite of key products for Konica Bizhub C250i/C300i/C360i-series machines. The colour toner set (equivalent to TN-328K/C/M/Y), drum unit cartridge and waste toner container, along with several parts, are now available at significant cost savings versus the OEM products. The colour toner set provides OEM-equivalent yields and excellent colour reproduction, the drum unit cartridge offers consistent, reliable OEM-performance and yields, and the waste toner container adds to Katun's growing range. These three key products will substantially increase your profits and give risk-free performance across this popular machine series.
Another great addition to Katun's colour toner portfolio is for use in Canon imageRUNNER Advance C256/C356 application. This colour toner set (equivalent to C-EXV 55), along with many others, has been tested in Katun's Research and Development laboratory in Minneapolis, Minnesota to ensure it meets our high quality standards. These products have been manufactured in facilities that have earned the ISO 9001:2015 quality management system certificate and the ISO 14001:2015 environmental management system certificate.
Several other imaging products have also been introduced, including a colour toner set for use in Canon I-SENSYS LBP 621/623/641/643/645 (equivalent to cartridge 054H) and monochrome toners for use in Kyocera 3212i Series (equivalent to TK-7125) and Kyocera 4012i series (equivalent to TK-7225). The entire range can be viewed via Katun's online catalogue.
All these Katun products may be ordered by email, phone or via the Katun Online Catalogue – the one-stop Internet resource that allows registered customers to locate and order thousands of Katun products while viewing real-time information about their orders and accounts. To find out which products are now available in your market, customers can access the Katun Online Catalogue at www.katun.com/eu.
About Katun Corporation
Headquartered in Minneapolis, Katun Corporation is one of the world's leading suppliers of OEM-compatible imaging supplies, photoreceptors, fuser rollers, parts and other products and services for printers, copiers and MFPs. With over 40 years of imaging industry expertise, Katun serves approximately 10,000 customers worldwide. For more information, visit Katun online at www.katun.com.