KATUN CORPORATION INTRODUCES NEW KATUN PERFORMANCE™ COLOUR TONERS FOR USE IN OLIVETTI D-COLOR P226 PRINTERS AND MFPS
Company Also Introducing New Products for use in Utax, Konica Minolta, Canon, Ricoh Aficio, and Sharp Machines.
MINNEAPOLIS – (August 2014) – Katun® Corporation, one of the world's leading alternative suppliers of the office equipment industry, is pleased to introduce Katun Performance™ colour toners for use in Olivetti D-Color P226 printers and MFPs. The introduction of these new products further expands Katun's comprehensive offering of high-quality, cost-saving products. These additions signify Katun's ongoing commitment to providing office equipment dealers and distributors with in-demand products – enabling them to grow their businesses and increase their profitability, both now and in the future.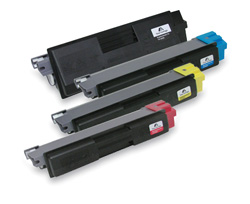 Other new product introductions include Katun Performance™ colour toners for use in Utax CLP 3626/3635 printers, Katun Performance™ waste toner container for use in Konica Minolta bizhub PRO 1051-series MFPs, and Katun Performance™ universal OPC drum unit rebuild kit for use in Canon imageRUNNER 2525-series and ADVANCE 4025-series MFPs. Additional products being launched are Katun Access™ colour toners for use in Ricoh Aficio MP C2030/C2050 and C2500-series and Konica Minolta bizhub C203-series machines, along with Katun Performance™ black toner for use in Sharp MX-2310-series copiers/printers. Each of these products provides OEM-equivalent yields, image quality, and overall performance at a fraction of the cost.
Katun products may be ordered by phone, fax or email, or via the Katun Online Catalogue – the one-stop Internet resource that allows registered customers to locate and order thousands of Katun products while viewing real-time information about their orders and accounts. Customers can access the Katun Online Catalogue, or find Katun customer service contact information, at www.katun.com/eu.
About Katun Corporation
Headquartered in Minneapolis, Katun Corporation is one of the world's leading suppliers of OEM-compatible imaging supplies, photoreceptors, fuser rollers, parts and other products and services for printers, copiers and MFPs. With 35 years of imaging industry expertise, the privately held Katun serves more than 14,000 customers worldwide. For more information, visit Katun online at www.katun.com/eu.