Katun® Business Color Challenge*
So what does this demonstrate?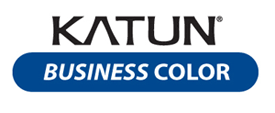 First, color from business color machines is variable. From equipment manufacturer to equipment manufacturer, model family to model family, and even from a print produced early in a print run to one produced later – all on a single machine, using OEM supplies – there is no one "right" color output – color is variable and subjective.
Second, just because color can be variable, that doesn't mean it's wrong. Every one of these samples, whether produced by a Canon, HP, Konica Minolta, or a Katun® Business Color toner, looks great.
So why don't the OEM machines – and toner – always produce perfectly precise color from family to family, machine to machine, and print to print? Because they don't need to. Business color users do not require, nor do they want to pay for, precise color matching.
Don't misunderstand – business color users want great color reproduction – but great color does not mean precise color matching. Business color users need "vibrant reds" to look vibrant – and red, and flesh tones to look like flesh tones; they want their graphs and charts to have impact, their PowerPoint printouts to communicate and provide emphasis, and their short run flyers to scream "look at me."
That's why we developed Katun® Business Color products. They are OEM-equivalent in yields, fusing, and image quality. They just don't provide precise color matching. What they do provide is your best overall value: Top performance, reliable quality and true cost savings.
Learn More About Katun Color Visit Our Color Page
*The origins of the displayed images are digital test prints made using the machines noted, using the manufacturer's brand photoreceptor/imaging unit, and either the manufacturer's or Katun toner. The test prints were scanned using a Canon imagePRESS C1, and those files were uploaded to this website. Absolutely no modifications have been made to the test prints or digital files.