Katun® Corporation Introduces Katun® Business Color Toners for use in
Sharp MX 2300N/2700N & 3501N/4501N-series Digital Copier/Printers
Katun's first color toner set for use in Sharp machines provides outstanding color quality and cost savings!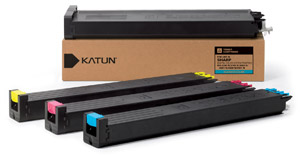 MINNEAPOLIS — (November 2011) — Katun Corporation, one of the world's leading alternative suppliers to the office equipment industry, is pleased to introduce Katun® Business Color toner for use in Sharp MX 2300N/2700N & 3501N/4501N-series applications. These toners offer OEM-equivalent print quality, yields, and overall performance, as well as excellent color reproduction, including hue, chroma and gloss.
"Adding to our very successful Katun® color toners for use in Canon, Konica Minolta, Ricoh and Toshiba, these Katun® toners, our first color toners for Sharp machines, represent the latest products in Katun's growing line of high-quality color toners for use in the most popular applications," says Joseph C. Wagner, Katun's vice president of marketing. "We estimate over 10 billion pages have already been produced using Katun® color toners, and the launch of this toner strengthens Katun's tradition of providing excellent color quality for business and office environments. Customers will be delighted by the outstanding color reproduction and print performance, featuring OEM-equivalent image density, overall print quality and yields plus significant cost savings versus the OEM toner."
The proven performance of Katun's rapidly growing color portfolio confirms a dedication to delivering high-quality products. These Katun® toners have been tested and approved for forward and reverse compatibility with OEM toners, and can be used with, and installed before or after, OEM toners, with no degradation in copy quality. Learn more about Katun's color offering at our Color Value page.
These Katun® Business Color toners may be ordered via the Katun Online Catalogue – Katun's one-stop Internet resource that allows registered customers to locate and order thousands of Katun® products while accessing real-time information about their orders and accounts. Customers can access the Katun Online Catalogue at www.katun.com/eu.
About Katun Corporation
Headquartered in Minneapolis, Katun Corporation is one of the world's leading suppliers of OEM-compatible imaging supplies, photoreceptors, fuser rollers, parts and other select products and services for the office equipment industry. With more than 30 years of expertise, the privately held Katun now serves more than 16,000 customers in more than 135 countries. For more information, visit Katun online at www.katun.com/eu.