Katun Corporation Introduces Katun Business Ink™
Complete New Line of Remanufactured Color Inkjet Cartridges Provides Excellent Print Quality and Cost Savings.
Minneapolis, MN – (March 26, 2019) Katun Corporation, one of the world's leading suppliers of OEM-compatible supplies and parts to the office equipment industry, is pleased to introduce Katun Business Ink™, a new line of remanufactured inkjet cartridges for business printer applications.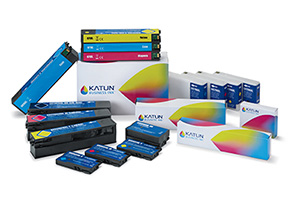 Katun Business Ink™ cartridges provide outstanding print quality and color reproduction, OEM-equivalent yields and significant cost savings – which are all cornerstones of Katun's value proposition.
"We're excited to introduce this dynamic new line of inkjet printer cartridges to the imaging industry," said Katun Director of Printer Business Development, Tony Ko. "Since 1979, dealers and distributors have come to trust Katun for high-quality, high-value toner, drums and parts for copiers, printers and multifunctional devices. Now we are bringing this same product and industry expertise to a new line of remanufactured inkjet products, thereby enabling our customers to seize new business opportunities, open new revenue streams and increase their profitability. All with full confidence in product quality and performance, because it comes from Katun."
The new line of Katun Business Ink™ inkjet products features more than 50 part numbers for use in HP and Epson applications, with many additional products planned for rollout in upcoming months. These products can be ordered online via the Katun Online Catalog at www.katun.com/kolc, or through your Katun sales or customer service representative.
About Katun Corporation
Headquartered in Minneapolis, Katun Corporation is one of the world's leading suppliers of OEM-compatible imaging supplies, photoreceptors, fuser rollers, parts and other products and services for the office equipment industry. With 40 years of industry experience, Katun serves more than 10,000 customers worldwide. For more information, visit Katun online at www.katun.com.