Katun Europe Expands Eco-Friendly Printer Offering
Video Explains Detailed Remanufacturing/Refurbishment Process.
GORINCHEM, THE NETHERLANDS – (October 2020) – Katun® Europe is pleased to announce the expansion of their range of eco-friendly refurbished and remanufactured printers and the availability of a new video detailing the remanufacturing/refurbishment process.
Katun's growing range of remanufactured (Katun Certified) and refurbished (Katun Access™) printers provide dealers with a variety of features, options and price ranges, and offer a greater value than purchasing a new printer.
These devices perform and look like new printers and provide reliable performance thanks to stringent remanufacturing and refurbishing processes completed in Europe. They connect to your network and MPS program software straight out of the box and offer 6-month (Katun Access™) and two-year (Katun Certified) warranties. The remanufacturing and refurbishment process is thorough and extensive; a new video details the process on the Katun website.
In addition to cost savings and value, this range of 13 eco-friendly Samsung, HP and Lexmark printers reinforces Katun's support of a circular economy model, promoting the reuse of materials and reducing waste destined for landfill. According to a comparison analysis based on the Life Cycle Assessment study (under ISO 14044:18) and external peer review, the overall environmental impact of producing a remanufactured machine is 77% less compared to production of a new printer. Therefore, as well as being a cost-effective choice to purchase a remanufactured machine, it also contributes to the preservation of our planet. Katun's partnerships with several pro-environmental organizations, including PrintReleaf™, are a testament to our continuing pledge to sustainability.
For more information, regarding Katun Access and Katun Certified printers, including flyers, catalogs and a video, visit Katun online at: https://www.katun.com/eu/products/remanufactured-and-refurbished-printers/.
Video also available by scanning the QR code below: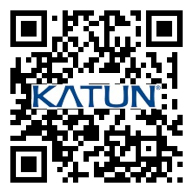 About Katun Corporation
Headquartered in Minneapolis, Katun Corporation is one of the world's leading suppliers of OEM-compatible imaging supplies, photoreceptors, fuser rollers, parts and other products and services for printers, copiers and MFPs. With over 40 years of imaging industry expertise, Katun serves approximately 10,000 customers worldwide. For more information, visit Katun online at www.katun.com/eu/.