KDFM Explorer Features
High-performing DCA Technology
KDFM eXplorer DCA is compatible with Windows, Mac OS, Linux, Raspberry PI3 operating systems. Compatible with HTTP2/GRPC and MQTT protocols beside HTTPS.
To ensure maximum reliability and redundancy of data, the DCA can be embedded directly on selected multifunction devices (Samsung XOA/E, Kyocera HyPAS and Triumph Adler equivalent, HP FutureSmart, Lexmark eSF. Olivetti OpenAPI) to collect data from any device on the network.
Multiple DCAs can also be installed on the same customer site and be aggregated in a cluster to ensure continuity of the data collection. This is unique in the industry!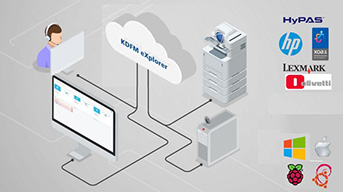 Device Web Access
Access and navigate to the web pages of any device from your browser, without the need for a remote connection on the customer's network. This extremely secure feature is active on all printer brands and models.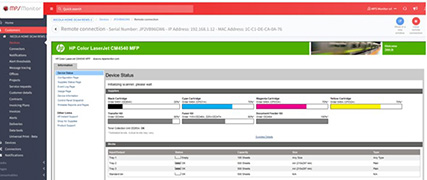 KDFM eXplorer Analytics
The KDFM eXplorer Analytics platform provides visual and interactive access to data. This enables users to get control and have clarity on the critical business factors and metrics that affect their costs, operational efficiency, and service performances. Dealers can access pre-built dashboards or create new ones from scratch, even for users without previous experience thanks to the extreme ease of use.
This full Business Intelligence environment is available from the same web portal. Users have access to a full self-service BI experience with the ability to modify existing reports or to create new ones from scratch, with no need to pay (or wait) for developers to create new BI reports and dashboards.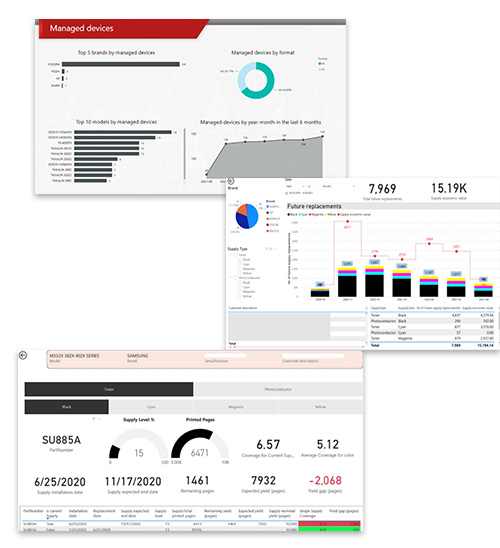 Sustainability
One of Katun's core values is to promote sustainability; when dealers choose KDFM eXplorer they opt for a "Green" approach:
Reduction of wasted toner – no more cartridges replaced too early when there is still toner left.
Print usage and energy consumption analysis to set best practices using Analytics reporting with imported PaperCut data (for users with PaperCut licenses).
Participation in the Katun reforestation program (Print It, Plant It) that automatically compensates for paper usage by planting trees where the planet needs it most, in partnership with PrintReleaf™.
Video to introduce PrintReleaf
PaperCut Data Integration
Customers who also have a Papercut account can take advantage of all the data provided directly within the KDFM eXplorer, without any additional software installation or license fees. Enjoy a Full Power BI experience.
From the KDFM eXplorer platform, users can manage printing patterns and uncover hidden costs, Identify areas of improvement, track volumes by user and department, reduce environmental impact, analyze trends and discover inefficiencies.