Katun Europe Introduces Multiple New Products
Colour Toners and a Black Drum Unit are Included in the Latest New Product Releases.
MINNEAPOLIS – (September 2019) – Katun® Corporation, one of the world's leading alternative suppliers to the office equipment industry, is pleased to announce the introduction of a wide range of products in Europe, ranging from colour toners to a new-build drum unit.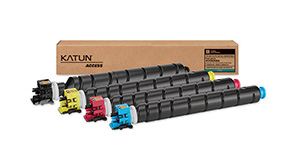 Colour toners for use in Kyocera TASKalfa 5052ci / 3552ci-series applications and colour toners for use in Utax and Triumph Adler 4006ci / 5006ci-series machines are now available. These colour products provide significant cost savings, consistent performance and OEM-equivalent yields, strengthening the wide range of colour toners that Katun already provides.
In addition, the Katun Performance™ new-build black drum unit for use in Konica Minolta bizhub C258-C658 and 308-558-series machines provide OEM-equivalent image quality and life/yields, and is backed by Katun's industry-leading warranty, enabling dealers to reduce their costs without compromising customer satisfaction.
When purchasing a Katun branded product, you significantly reduce your chances of any supply chain interruptions due to IP issues and avoid any legal complications that come with the risk of counterfeit products. Katun is committed to respecting the valid intellectual property rights of others and strives to market "IP-friendly" products to our customers. As a Katun partner, you are buying from an organization that respects valid intellectual property rights and competes fairly – a company you can trust.
Katun products may be ordered by phone, fax or email, or via the Katun Online Catalogue – the one-stop Internet resource that allows registered customers to locate and order thousands of Katun products while viewing real-time information about their orders and accounts. To find out which products are now available in your market, customers can access the Katun Online Catalogue at www.katun.com/eu.
About Katun Corporation
Headquartered in Minneapolis, Katun Corporation is one of the world's leading suppliers of OEM-compatible imaging supplies, photoreceptors, fuser rollers, parts and other products and services for printers, copiers and MFPs. With 40 years of imaging industry expertise, Katun serves approximately 10,000 customers worldwide. For more information, visit Katun online at www.katun.com.