Promote your brand and increase customer loyalty with Katun's
Personalized Label Program
Sign up now and get the first month free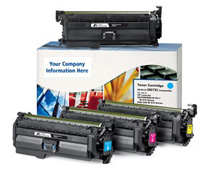 Your company name is the strength of your business. Reinforcing that strength with customers is essential for building repeat supplies business. With personalized products from Katun, customers see your name and phone number every time they replace copier toner, printer/fax toner cartridges, or waste toner containers. It´s the simplest, most reliable way to remind them to call you – not your competition – when they need additional OEM-compatible imaging supplies.
For a one-time set-up fee, and a small monthly charge, Katun designs and produces personalized professionally printed, full-color labels to your specifications and applies them to Katun packaging.
How can you get the first month free?
No monthly charge is due for your first month in the Personalized Label Program if you complete and submit the form below before the end of 2017!
After submitting the form, Katun Customer Service will get back to you quickly to finalize the agreement, so you can start promoting your own brand.