Promote your company name and increase customer loyalty with personalized products from Katun – now easier than ever!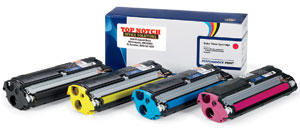 Your company name is the strength of your business. Reinforcing that strength with customers is essential for building repeat supplies business. With personalized products from Katun, customers see your name and phone number every time they replace copier toner, printer/fax toner cartridges, digital duplicator inks and masters, or thermal transfer ribbons. It´s the simplest, most reliable way to remind them to call you – not your competition – when they need additional imaging supplies.
Professionally printed, full-color labels on imaging supplies packaging clearly identify you as your customers´ preferred source. For a one-time set-up fee, Katun designs and produces these labels to your specifications and applies them at no extra charge to Katun® Performance™ packaging.
Ordering personalized products online is easy once you´re enrolled in the program. All personalizable products you search for online will default to "personalized". You can easily override that selection on the "Search Results" and "View Order" pages, or change your default settings under "My Account."
For more information, contact your customer service representative. To enroll in the program, click on the link below, print out the Personalized Product Agreement Form (PDF file), and return the completed form to your customer service representative.
Note: This program is not available in Latin America or Asia/Pacific.
Personalized Product Agreement Forms
English
French
German
Italian
Portuguese – Portugal
Spanish – Spain